It's one year since I can compose was launched, and what an incredible 12 months it has been! In this post I will reflect on the journey and look forward to the next year…
Starting out
Going from classroom music teacher to entrepreneur has been a steep learning curve, but a hugely rewarded one. I have learnt so much, from mastering the web software and online image editing tools to managing my time effectively after working to the timetabled school day for twelve years. I've always really enjoyed teaching composition, and trying out different approaches in the classroom, but I know that it's not every teacher's cup of tea. It can certainly be a real challenge, particularly when exam boards are unclear on or inconsistent in their assessment criteria, making it difficult to gauge how students are going to be marked. Sometimes the joy of composing and sense of creativity can be lost amidst the need to tick boxes on an assessment sheet and complete 101 other tasks in the teaching day. The I can compose website has proved to be really popular as there's long been a need for high quality classroom composition resources. I've started out by focussing on GCSE music composition but A level composition courses are also in the pipeline.
Our courses
My aim has always been to make composing fun and accessible for music students and teachers. Drawing upon methods and ideas that I successfully used in the classroom, I create easy-to-follow courses which take students through the whole composition process. It's simple really: I write a piece specially for each course and then break it down lesson by lesson. Students can then follow my model closely or choose to take some of the ideas and go in their own direction. It's all about building confidence and giving lots of clear, relevant examples. To keep the lessons engaging there are videos, audio clips, drop-down boxes and handy hints to help students compose their own piece.
"I can compose has given me an excellent resource with which to deliver high quality composition work with my GCSE students. The learning is detailed and well scaffolded and very user-friendly in the classroom. I have been teaching music for 15 years and haven't come across anything so well designed and well thought-out from an educational perspective. The work my students have produced has far surpassed my expectations and given them confidence in the compositional process."

Diana Tarry, Director of Music at Blue Coat School, Coventry
To read what other teachers are saying click here.
Teachers' Area
Encouraged by the initial response to the site, we launched a dedicated Teachers' Area where teachers can download time-saving homework sheets, cover work packs and classroom aids. Our most popular resource has been the Composition starters and plenaries resource pack, and the Composer of the week pack has been warmly welcomed too. As a teacher, one thing which I always needed but never had time to find, was 'real life' audio examples of different techniques and musical features in pieces. For example, if I was explaining what a hemiola was or how to identify a perfect 5th interval, I never seemed to have enough examples to hand. It's one thing to demonstrate these things on the piano, but in an exam situation students are expected to identify features in an orchestral or choral piece. So, one resource I'm working on at the moment is a series of 'listening banks' to help in those times when you quickly need a piece or song with a particular musical feature or device.
Awards
Just a few months after launching I can compose, we were shortlisted for not one, but two prestigious awards! In November I was one of 5 winners of the Stelios Philanthropic Foundation Business Award for Disabled Entrepreneurs, and was thrilled to talk about music education and I can compose with Easyjet founder, Sir Stelios Haji-Ioannou. We were also announced winner of the Outstanding Music Education Product category at the 2019 Music Teacher Awards for Excellence. Judges praised the high level of detail in the courses and admired the modern look and feel of the site.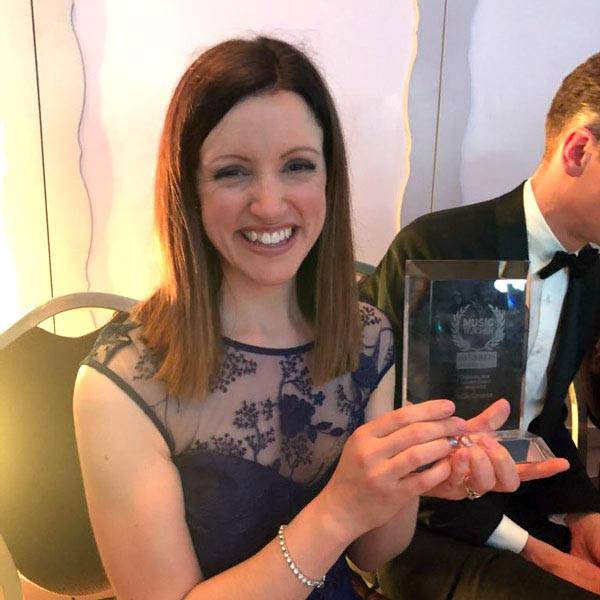 One of the most valuable experiences in the past year has been meeting so many different people both in music education and in other businesses. Despite the uncertain times for music education, there is so much passion amongst teachers for music both in and out of the classroom, because we know that music transforms lives and needs to be an integral part of every school.
Where next?
There are some exciting plans for I can compose but I can't share them all with you yet so watch this space! But I can tell you that there are new courses (and pieces) being written and composed, as well as new resources for the Teachers' Area. And our Inspiration page will be updated over the summer, offering lots more pieces with commentary and insights.
Thank you to everyone who uses the I can compose website – I really value the support. And remember – everything here is for you to use in the classroom and make composition an enjoyable activity. Please do contact me if you have any suggestions or feedback about the site.