Finalist for the Stelios Business Award:
Rachel Shapey, a Secondary school teacher from Stockport, is one of five finalists for this year's Stelios Awards for Disabled Entrepreneurs.
Rachel's icancompose.com website guides students through the academic side of composition with resources designed to build confidence preparing for GCSE and A Level examinations.
Rachel was diagnosed with relapsing remitting MS twelve years ago. She began learning the piano at the age of five, later taking up the flute as well as playing the organ in the local church.
The Stelios Awards for Disabled Entrepreneurs
The Stelios Awards for Disabled Entrepreneurs, jointly run by the Stelios Philanthropic Foundation, founded by EasyJet's Stelios Haji-Ioannou, and disability charity, Leonard Cheshire, started 12 years ago. It recognises the achievements of disabled entrepreneurs in the UK. A record number of over 82 candidates applied for the 2018 Award, with applications coming from a diverse mix of sectors, including fashion, retail, sport and leisure and tourism.
The overall winner will be awarded £30,000 and the remaining shortlisted applicants will each get £10,000.
Past winners have been drawn from the travel agency, building and IT sectors as well as businesses specialising in disability and mobility aids and services. The winner will be announced at an awards ceremony on Wednesday 14 November 2018.
Update: 16/11/18
Josh Wintersgill, founder of Able-Move, was the overall winner, receiving £30,000 for his business. Rachel was thrilled to be awarded £10,000 by the Stelios Philanthropic Foundation and had a thoroughly enjoyable time!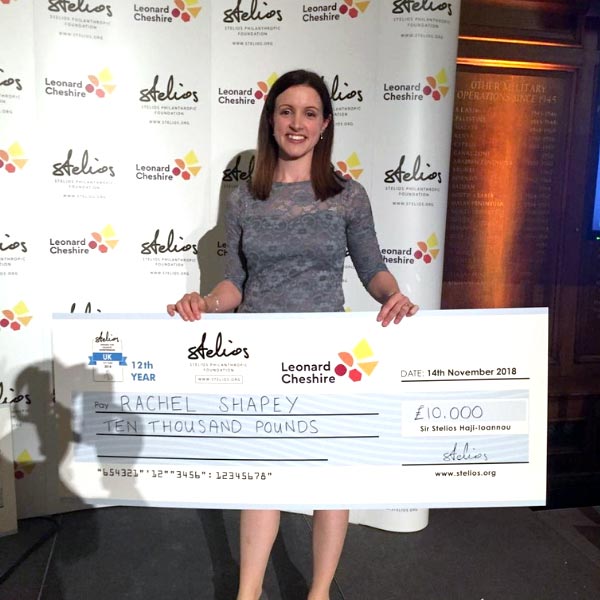 Each finalist had a day of filming as part of the prize – do have a look at the video.