At the end of April 2022 we celebrated four years of I Can Compose!
In that time I Can Compose has developed and evolved significantly and we're delighted to launch our new site with updated course content, faster response time, improved functionality and easier navigation. In this post I'll go through all the new features so you know what to look out for. We hope you enjoy exploring the new site…
Revised Course Content
All of the courses have been updated with clearer layouts, new exemplar listening and additional lesson content. Every student who finished a course receives a certificate of completion and an achievement badge to display on his/her personal dashboard.
If you want to try a course why not enrol in one of our free courses: Composition: How to Get Started or How to Follow a Score to get a flavour of the style and content. In addition all of our premium courses have a free taster lesson included – simply click on the individual course summary page where you will see the course outline and the free lesson highlighted.
We're also planning some new courses to be developed over the next 12 months – watch this space!
One of the biggest new features of the website is how the Classroom Access Plan works – this plan provides access to all our courses for students. They can work through our self-paced courses at school and at home. Teachers can now purchase the Classroom Access Plan directly on the website and manage it themselves on the personal dashboard, giving greater autonomy.
Once the plan is purchased, teachers can invite students (similar to Google Classroom) or add them manually. Students can then add courses to their accounts and get started!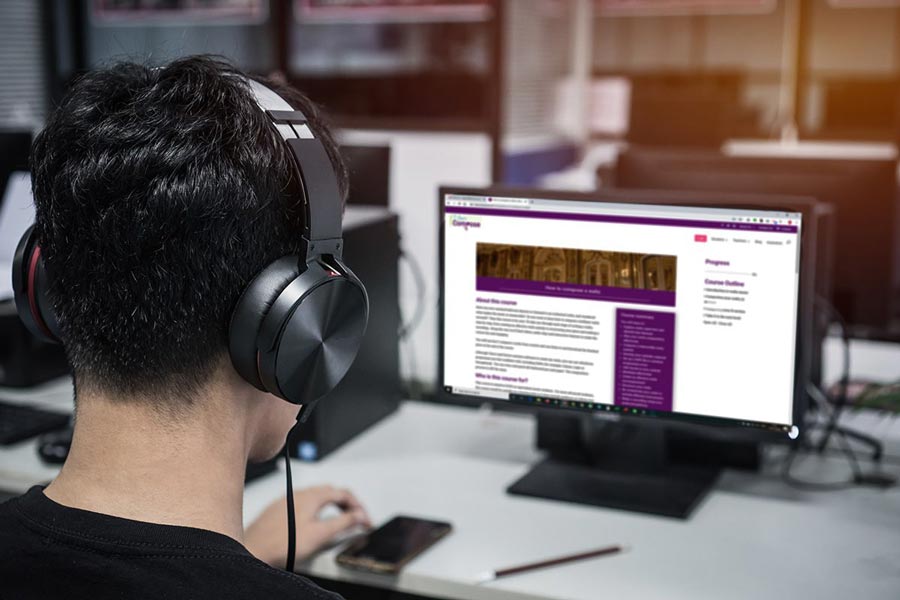 Our popular Inspiration Page is a free library of pieces to encourage students to widen their listening choices and to get ideas for their composing activities. No log-in is required for this page.
You'll find all the pieces from the previous site and some new additions, with more new pieces coming soon.
Performance Improvements
Our website developers have been working on improving the performance of the website. At times the site has felt a little sluggish, especially during the school day when many students have been accessing courses simultaneously,. The new website has been built with performance in mind. This is an ongoing task, and our developers will be continuously monitoring the volume of traffic on the site.
More Payment Options
As before, resources and courses can be purchased via credit card. For teachers and schools looking to purchase the Teacher Access Plan or the Classroom Access Plan, you'll now also find a Pay By Invoice option at the checkout page. With this option we'll send you an invoice and activate your membership once the payment has been processed outside of the website.
Access Plans
Whilst all of our courses and resources can be purchased individually, we also offer 12-month Access Plans which provide best value if you know you're going to be using everything.
If you were previously on the Gold Access Plan (resources) you will automatically be moved onto the Teacher Access Plan and if you were previously on the Platinum Access Plan you will be moved onto the Teacher Access Plan (exactly the same with a different name).
On our Resources page you'll find all the classroom materials you enjoyed on the previous site and can look forward to some new content that will be added over the next academic year. We are currently updating the Composer of the Week packs and will add these to the site as soon as they are ready.
Find out more
If you have a question about the new site please refer to our FAQ page – thank you.