Find out everything you need to know about the 'Composing with Intention' CPD day in Manchester on 8th July 2022.
To register your interest and book your place click on the purple button at the bottom of this post.
About this CPD course
Led by Rachel Shapey, author of "How to Teach Composition in the Secondary Classroom – 50 Inspiring Ideas" (HarperCollins) and Director of the award-winning platform: I Can Compose, this in-person course is designed for secondary classroom teachers wanting to refresh their approach to delivering composition in the classroom and seeking to support their students in creating imaginative and successful compositions.
What's included?
Throughout the day, the theme Composing with Intention will permeate, as teaching composing creatively, musically and thoughtfully, will be explored in depth.
The course includes tried and tested activities such as starters and plenaries for composing lessons; tasks for teaching compositional techniques (for example melody writing, adding chords and developing a melody) and ideas for both tech and non-tech classrooms which can be adapted for any music department.
The focus will primarily be on KS3 and KS4 composition exploring how to support both under-confident and more able students to maximise their creative potential. Achieving a balance between creative freedom and technical precision will also be covered, helping students compose music they can be proud of.
Benefits of attending
Take away tried-and-tested strategies and approaches for delivering composition in the secondary classroom.
Gain new techniques, lesson activities and ideas to adapt and develop in the classroom.
Find out more about teaching compositional techniques at GCSE.
Take away strategies for delivering composition at KS3.
Understand how to implement a holistic approach to teaching composition, helping students to make connections between the four main strands of music (performing, listening, analysing and composing)
'Composing with intention' CPD Day in Manchester October 2021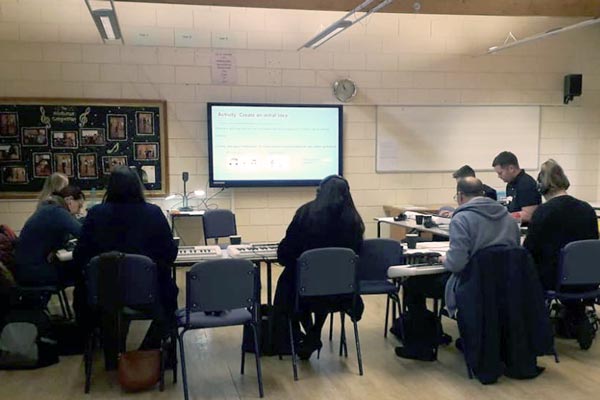 What teachers have said about Rachel Shapey's previous courses:
"Rachel is an excellent presenter – knowledgeable, friendly and so approachable. She is very well organised and is plugging a gap in the CPD music teacher-composition market that is so needed! Thank you so much – my school / students will benefit hugely."
"Thank you for today, it's been brilliant."
"I've been so inspired today – so many helpful ideas that I can actually use in the classroom straight away and simple approaches that will improve my lessons."
Read more about Rachel's vision and journey as a musician and educator on her personal website.
Summary
Each delegate will receive a complimentary online composition course from I Can Compose and a goody bag.
Date: Friday 8 July 2022
Cost: £185 (booking via invoice – please click button below)
Time: 10am – 4pm (registration from 9.30am)
Lunch and refreshments are included.
Venue: Manchester Grammar School (view on Google Maps)
Please note: there are a total of 15 places for this event.
To register your interest for this event and book your place please click on the button below to complete the sign-up form:
Sponsored by Dorico notation software
Dorico helps you to compose music and write it in music notation, automatically producing printed results of exceptional quality. It also gives you sequencer-style tools for editing the playback of your music, without compromising the beauty of the score. With hundreds of unique, smart time-saving features you won't find anywhere else, Dorico is easy enough for anyone to learn, but powerful enough to satisfy even the most demanding professionals.