Enterprise Vision Awards 2018
I can compose Ltd is delighted to announce that it has been nominated as a finalist in the internet industry category for the forthcoming Enterprise Vision Awards (EVA) 2018 which recognises women in business across the North West. The winner of the EVA awards will be announced in Blackpool on Friday 28th September 2018.
Rachel Shapey, founder and Principal Director, launched I can compose in April 2018 and delivers music education courses and resources to students and teachers through its unique and dynamic online education platform. In its first year of business, I can compose already has a world-wide following with subscribers from as far away as Australia and Japan. With over 12 years of experience as a secondary school teacher, and two young children in tow, Rachel decided to pursue a new direction with her teaching career. She now utilises her skills and knowledge from the education sector in her own business which allows her to maximise the time she spends with her young family.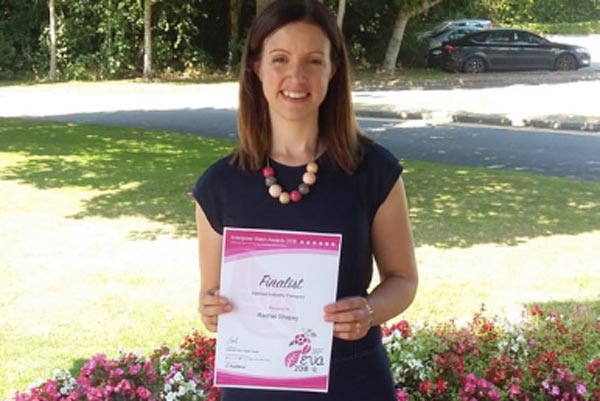 Explaining the market niche for such a venture, Rachel said: "There is currently a real problem in delivering music education. This is exacerbated by a reduced commitment to the creative arts by central government, significant time pressures on teachers, and a lack of specialist experience to teach the subject. To help them, teachers seek out ready-made resources…but, in music composition, there are no existing high quality resources. I can composeaddresses this problem through its online music education platform and aims to make composing music both fun and accessible to all, either in the classroom or at home."
Sean Young, a leading music educator, tweeted "Can't recommend @i_can_compose highly enough for teachers and students of GCSE Music!" Meanwhile, Aidan Bradley, Director of Music at Manchester High School for Girls, trialled the products prior to launch and commented that "…each course deals with a different aspect of composition in a logical, coherent and, most importantly, an enjoyable way". High praise indeed from one of the UK's leading schools. Needless to say the feedback from students has been glowing.
Since being nominated as an EVA awards finalist, interest in I can compose has rocketed. Consequently, the products available for teachers have been diversified with contemporary and easily accessible homework and cover lesson packages, as well as institutional subscriptions ready for launch later in 2018. Reflecting on the future vision for the business, Rachel said that her aims were "to make composing music both fun and accessible to all, either in the classroom or at home. And, to equip teachers with the best resources available, so that they can focus on doing what they love most."
Update: 01/10/18
We didn't win, but had a fantastic time at the EVA awards at the Blackpool Winter Gardens and met some really inspiring businesswomen!