Context
Crouching Tiger, Hidden Dragon by Tan Dun
'Crouching Tiger, Hidden Dragon' is a multi award-winning martial arts film, released in 2000.
In 19th century Qing Dynasty China, a warrior gives his sword, the Green Destiny, to his lover to deliver to safe keeping. It is stolen, and the chase is on to find it. The search leads to the House of Yu where the story takes on a whole different level…
Tan Dun is a Chinese classical composer who also wrote the music for the 2008 Bejing Olympics medal ceremonies.
Listen For
This film score displays an interesting fusion of western instruments (Shanghai Symphony Orchestra), Shanghai National Orchestra (Chinese) and traditional Chinese drums (Shanghai percussion ensemble).
The use of ethnic instruments, such as the erhu (2 stringed Chinese violin) create a sense of Oriental mysticism. There is one point in the film where the cello and erhu combine to create a beautiful duet.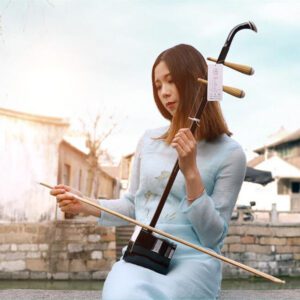 The lyrical and expressive cello solos, performed by Yo-Yo Ma, are often heard at poignant moments in the film.
The opening cello solo is performed with rubato. This means that the performer is flexible with the tempo. There is no strict pulse which gives an open, uncluttered feeling to the music.
Can you hear the subtle glides between notes?
At 0:22 listen for the guzheng, a Chinese plucked stringed instrument:
During a chase or fight scene, in the film, the drumming mirrors the action through the changing tempo and dynamics. This creates tension.
Interestingly, Tan Dun often uses instruments made from organic materials, e.g paper, water, and stone. His music is inspired by traditional Chinese theatrical and ritual performance.
At 01:46 the accompanying strings begin a repetitive pattern (ostinato) which adds momentum at this point.
At 02:23 listen for the open fourths and fifths in the woodwind section. These intervals are characteristic of Oriental music.
Things To Consider
What challenges does using both western and traditional instruments present?
Try composing a short passage for a chase scene in a film, using only percussion instruments.