In this guest blog post, Alison Mathews, co-founder of Compose Yourself! shares her thoughts, tips and hopes for the 2022 online Piano Composition Festival.
What is Compose Yourself?
Compose Yourself! the UK online piano composition festival is back for a second year, providing an opportunity for creative young musicians. Co-founded by myself and Lindsey Berwin, we had the aim of encouraging and supporting young composers and the hope that we would inspire more teachers to include composition as a natural part of their student's learning. We felt that this opportunity would be applicable both to a classroom setting, where students are learning to compose for piano, as well as to instrumental teachers. We were delighted when last year we had several heads of school music departments encouraging pupils to enter the festival!
From Lindsey's and my own teaching experience we are very aware how beneficial composing can be, and in a variety of ways. For some pupils it provides a means of opening doors to self-confidence and self-expression in a way that playing never has, and for all pupils it brings together different aspects of musical learning. It gives an opportunity to introduce in a creative way important techniques, such as form and structure, transposition, use of motifs and harmony to name just a few! There is also the exciting possibility of exploring the tonal range of the piano freely. All of these contribute to the development of a complete musician.
Knowing your student
Our approach to the introduction of composition depends very much on the particular student we are teaching. Some are natural explorers or improvisors, and others are less confident. Here are a variety of ways which we have found to be effective:
For some, it is free exploration of the piano, often producing abstract pieces.
For others, it is choosing a subject, such as an animal or a sport, and experimenting with ways to describe this musically.
These two methods are excellent for giving students the opportunity to experiment with the instrument's tonal possibilities, and to choose which effects they feel work well. Use of different registers, glissandi and both pedals can make a myriad of descriptive sounds. A mysterious sound world of underwater or outer space has often been the result!
A third method, which has proved to be especially effective for pupils who are less confident, is to provide a structure:
Using a certain piece that they have played, or a particular style, as inspiration. The latter could be, for example theme and variations, minimalism, jazz or even fugue for an extremely able pupil!
Basing the piece on one or more scales, for instance the pentatonic, blues, whole tone, chromatic and modes.
Creating a storyline to act as a framework.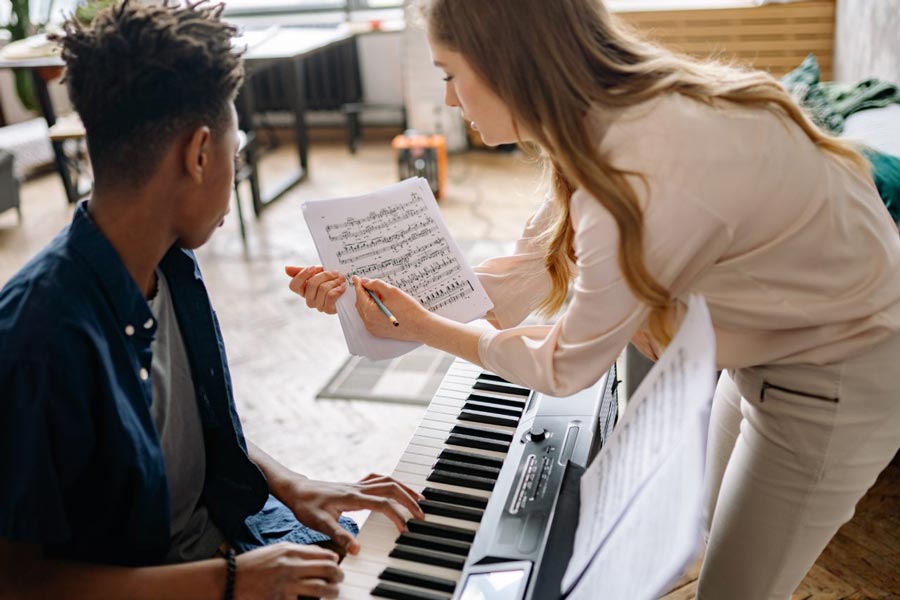 Feedback and encouragement
In the past, Lindsey and I regularly entered students for the annual EPTA competition which gave students of all levels an opportunity for constructive feedback and a goal. The demise of this event left a gap in the world of young pianists' composition which we felt we could fill, launching Compose Yourself! as a UK-wide festival open to all in 2021. We wanted to make the festival as accessible and welcoming as possible, introducing a non-competitive category and taking the event online. We also wanted to create a feeling of achievement by sharing entrants' compositions on our YouTube channel.
One particularly exciting aspect of the festival is the involvement of a wonderful group of leading contemporary composers, with more joining us this year including Pam Wedgwood! All entrants receive a piece of music by one of these composers to suit their performance level. We hope that this will inspire pupils to continue composing and is an extension of the idea of sharing music – from published composer to student. This year, I am running the event in partnership with the publisher Editions Musica Ferrum and the support of Trinity College London. The panel of adjudicators has been extended with critically acclaimed pianist and music educator Murray McLachlan joining renowned composers June Armstrong, Nikolas Sideris and Lindsey. All entrants will receive encouraging and constructive feedback from one of these experts.
Compose Yourself! information
The Compose Yourself! website has articles and a variety of resources to support teachers wanting to introduce composition to their pupils in a straightforward and engaging way. For more information on how to register for the event and the entry guidelines please visit www.composeyourself.net Submissions will open from 1st of June and close on 1st July.
Lindsey Berwin
Lindsey grew up in Cardiff and Leeds and then spent four years studying at the Royal Academy of Music. After a brief period of working as a classroom music teacher, she decided to refocus on piano teaching. Since then, she has followed this path, together with that of performing, amassing some thirty-five years of experience. In 2002 Lindsey became employed by Queen Elizabeth Grammar School and Wakefield Girls' High School, where she continues to have a busy and thriving teaching practice.
Lindsey has become well known for her innovative approaches to improving key skills whilst maintaining enjoyment for her students. She is the composer of FunKey! a series of books designed to improve piano students' sight-reading skills using jazz based material and Jazz Keys, its counterpart, for flute. In 2017 her suite of piano pieces entitled, All the Fun of the Fair, suitable for intermediate and advanced students, was published. This was followed in 2018 by a set of advanced pieces entitled Vignettes, and then by Jazzagility! a series of graded piano technique books in the jazz idiom.
Alison Mathews
Alison is a pianist, composer and teacher with a thriving private teaching practice in Surrey. After graduating from the Royal College of Music, she went on to complete a masters degree at Surrey University with the philosophy of music at the heart of her studies.
Alison's interest in composition grew out of a desire to provide her students with imaginative music to play that would give them the opportunity to explore the full range and sonority of the piano whilst exploring different techniques. Her published works include a varied portfolio of educational books, such as Doodles 1 and 2, Treasure Trove and Landscapes, as well as commissions from ABRSM, Trinity College London and Breitkopf & Härtel. Alison's works are included in exam syllabi for ABRSM, RIAM, RCM, Trinity College London and she has contributed to several anthologies. Facebook: @PianistsComposeYourself
Twitter: @YourselfCompose
Youtube: Compose Yourself!